The volatility of cryptocurrencies in recent years has led to an influx of investors looking to take advantage of emerging assets. And cryptocurrency-based assets and systems like non-fungible tokens  (NFTs) and decentralized finance (DeFi) can add to the allure of potential new ways to make money. But as cryptocurrencies become more mainstream, the Federal Trade Commission (FTC) has also seen losses from fraudulent cryptocurrency investments skyrocket. Between October 1, 2020 and March 31, 2021,  the FTC received 6,792 reports of cryptocurrency investment scams with over $80 million in reported losses. 
This potential for fraud may prompt you to exercise caution when investing in cryptocurrencies and managing your crypto portfolio. Here are a number of the common cryptocurrency scams to watch out  for: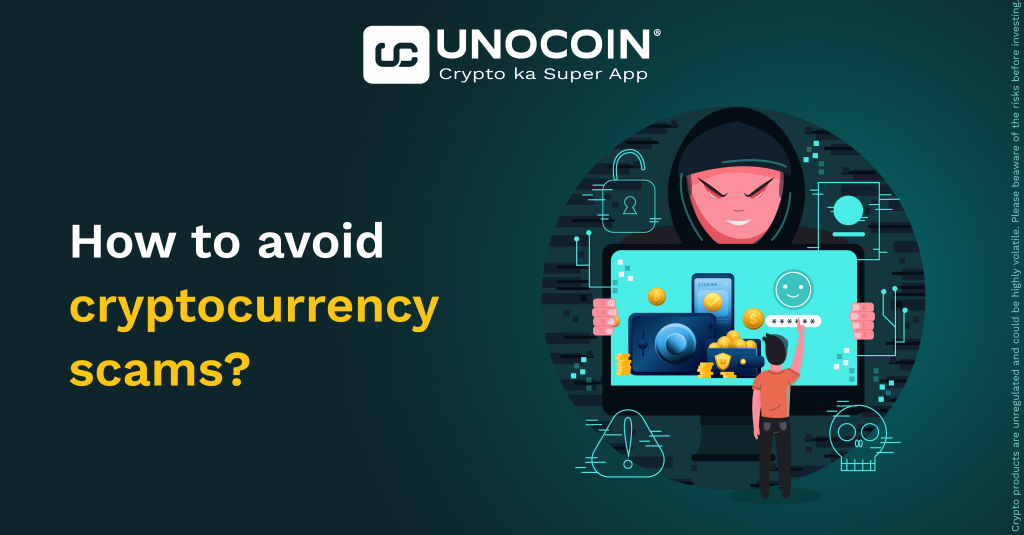 1. Phishing scams
Phishing may be a classic scheme in which a fraudster tries to obtain your personal information, like your name, address, Social Security number and passwords. Or, if you are a cryptocurrency investor, the scammer's efforts could also be aimed at obtaining seed words or a private key from one of your cryptocurrency wallets. 
Phishing scams can take many forms and may come from a seemingly innocuous phone call, text message or email. Cryptocurrency phishing scams also are common on forums, messaging apps, and social media sites. 
The fraudster often impersonates somebody else, like an authority figure or a company representative. They're going to then try to get you to share your information.
For example, if you post that you simply need help with a cryptocurrency platform, a scammer may reach you pretending to be part of the customer service team. They'll ask you to fill out a form or share access to your computer so they can help you. However, once they get the prospect, they'll take your information and potentially transfer your digital assets to an account they control before you even know what's happening. 
2. GiveAway Scams 
Prominent celebrities and entrepreneurs often and rightfully discuss cryptocurrencies online. Disclosure scams repose on this established trend of extorting victims. 
A scammer may claim to be making a gift of cryptocurrency tokens. To qualify for "giving" you've got to send them money and they will then send you even more. In fact, they only take your money and disappear. 
3. Ice Phishing
Similar to real-world ice fishing, where a hole is made in a frozen lake to catch fish, ice phishing may be a  new Web3 clickjacking scheme that tricks users into assigning or delegating the approval of a user token to a cybercriminal. Consistent with Microsoft, the interface of the smart contract is such that it does not let the victim know that the transaction has been tampered with. All the attacker has got to do is modify the spender's address to the attacker's and then wait for the victim to authorize the transaction and approve the attacker's account. (In crypto parlance, a "spender" is allowed to spend on behalf of the  owner.) 
In this particular case, the attacker managed to switch the user interface of the smart contract by injecting a malicious script into the front end of the smart contract. An identical attack occurred at the end of last year on the BadgerDAO exchange when attackers used ice phishing to steal $120 million worth of cryptocurrency. 
4. Fraudulent emails, websites and social media accounts
Phishing emails and faux URLs are probably one of the oldest tricks in the book. Likewise, Web3 is filled with copycat websites, social media accounts, and scam emails. From get-rich-quick schemes to pump-and-dump schemes, fake promotions to promising new cryptocurrencies, email scams cost users many dollars every year. 
Last year, a number one crypto exchange lost $55 million just because a cryptocurrency developer accidentally opened a phishing email with a malicious attachment. Cryptocurrency scams on social media are growing exponentially. Fraudsters often pose as authentic sources, celebrities, friends or family, tricking users into visiting impersonated sites or making fake investments. Once the investment gains momentum, the duplicitous developers will do the famous carpet, leaving the investors worthless. 
5. Extortion fraud
Some criminals will attempt to blackmail you with incriminating or embarrassing information that is either real or completely fabricated. For instance, they'll threaten to send compromising videos or photos of you to everyone on your phone or email contact list. Or they will keep the threat vague,  sharing a "secret" without naming it specifically. 
Cryptocurrency comes into the combination as scammers will often demand payment via Bitcoin or any other cryptocurrency. You'll report these extortion or extortion attempts directly to the FBI. 
HOW TO AVOID AND PROTECT YOURSELF FROM SUCH FRAUDS:
Follow some key rules 
Identifying cryptocurrency scams is often more difficult than other scams because the technology and terminology may be unfamiliar to many people. And fraudsters can exploit victims' misunderstanding of cryptocurrencies to form them appear more threatening or legitimate. There can also be an additional sense of pressure to act quickly – before you "lose" the opportunity. 
Here are some guidelines which will protect you: 
Don't send cryptocurrency to people that claim to work for a government agency or a large company. If possible, enable multi-factor authentication.
Ignore anyone who promises to offer you free money or says that you are guaranteed to make money on your investment.
If you're unsure, you'll search for details related to the website, app or cryptocurrency in question and  "scam" or "reviews" to work out what other people have reported. 
Track and protect your identity 
Many scams don't involve complex hacks or technology. Instead, they depend on social engineering – tricking the perpetrator into sharing your information or sending them money. Since cryptocurrency transfers can't be reversed, victims might not have many options. A reason to be more careful. 
To help keep your finances safe from bad actors, you'll look into identity theft protection services.
Please find the list of authentic Unocoin accounts for all your queries below:
Disclaimer:Crypto products are unregulated as of this date in India. They could be highly volatile. At Unocoin, we understand that there is a need to protect consumer interests as this form of trading and investment has risks that consumers may not be aware of. To ensure that consumers who deal in crypto products are not misled, they are advised to DYOR (Do Your Own Research).