The current Bitcoin decline is more of a correction phase than a downturn. So should you buy the dip? A dip is a brief decline in crypto asset values, especially when a particular coin or token is anticipated to appreciate soon. A dip could be brought on by several things, such as unfavorable market circumstances, news, government intervention, or even manipulation.
If you're confused about "should I buy the dip?" you should know that it works best when actively trading rather than keeping a position for a longer duration. Some of the most important reasons you should buy the dip are that the price of crypto assets in the market is still at an all-time high. Some of the top fintech platforms support it; thus, you can gain a lot by investing in a dip. 
To do this, you can use dynamic dip coin trading platforms. They give you easy access to the many crypto assets on the market and allow you to trade (buy and sell) them while you're on the go.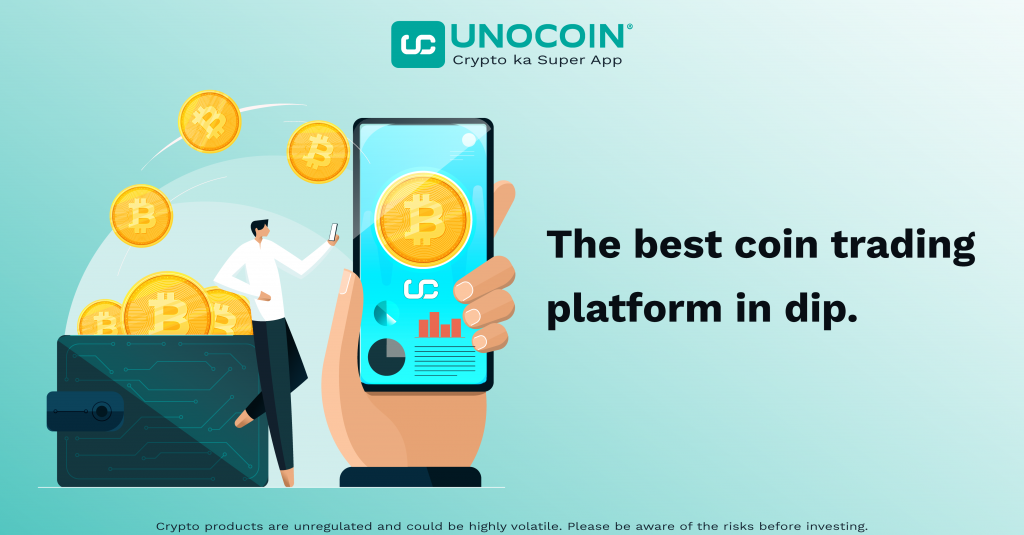 Best Crypto asset trading platforms 
The top crypto asset trade platforms are listed below:
Unocoin is a mobile wallet that enables users to buy, sell, store, use, and accept bitcoins. Users can print paper wallets and import bitcoin addresses to their own address book and also withdraw bitcoins to their paper wallets. Available on both iOS and Android platforms, it acts as a point-of-sale merchant mobile app. Unocoin was launched in 2013 and is based in Tumakuru, India.
Crypto.com is a cryptocurrency exchange company situated in Singapore with a whopping fifty million customers and four thousand employees. Bobby Bao, Gary Or, Kris Marszalek and Rafael Melo founded this company in 2016.
Crypto.com has signed sponsorship deals with car racing championships, various sports personalities and the charity organization Water.org. Actor Matt Damon as the brand ambassador was included in the signing of Water.org partnership. 
Foris DAX Asia, another company based in Singapore, operates Crypto.com.
Pionex is a centralized cryptocurrency exchange that offers thirteen types of crypto trading bits in the bounds of this exchange. It's a Singapore-based company. It collects its liquidity from Huobi Global and Binance so that its users can enjoy a comfortable trading experience with flawless liquidity. 
On both, making and taker orders, Pionex charges a flat of 0.05% fees. 
Pionex attains a USA Money Services Business License (MSB) with a pending Monetary Authority of Singapore (MAS) license. It's backed by BitUniverse and also, Zhenfund and Gaorong Capital (Well-reputed Chinese Venture Capital Firms) have invested in Pionex. 
Colonnade is an American Publicly traded company operating a cryptocurrency platform. 
Brian Armstrong and Fred Ehrsam founded Coinbase in 2012. Since it is a distributed company, all employees work via remote work, which also implies that Coinbase is yet to acquire physical headquarters. 
By trading volume, Coinbase stands first as the largest cryptocurrency exchange in the US. 
The products for retail traders entail:
Bitcoin
Bitcoin Bash
Ethereum
Ethereum Classic
Litecoin
Coinbase Wallet
Coinbase Pro
Coinbase NFT
Changpeng Zhao founded Binance in 2017, registered now in the Cayman Islands. It is the largest cryptocurrency exchange in the world in terms of the regular trading volume of cryptocurrency. 
It is served all around the globe, except the US. Binance was forced under investigation by the United States Department of Justice and Internal Revenue Service on accusations of money laundering along with tax offenses. Later on in 2021, Binance had to cease all of its regulated act on it in the United Kingdom under the UK's Financial Conduct Authority order. 
Kraken is both, a cryptocurrency exchange along with a bank. It is located in San Francisco, California, United States, founded in the year 2011. It offers trading between cryptocurrency and fiat currencies, and also provides price data to Bloomberg Terminal. 
The Owner and CEO of Kraken are Payward and Jesse Powell, respectively. 
Nejc Kodrič (Board Member) and Damian Merlak co-founded Bitcoin. It is a cryptocurrency exchange company situated in Luxembourg (London) and Slovenia (New York City), allowing trading between fiat currency, bitcoin and other cryptocurrencies.
Bitcoin offers API to enable clients to utilize custom software to access and control their accounts. 
Currency:
Bitcoin
Litecoin
Ethereum
ALGO
Bitcoin Cash
XLM
XRP (Ripple) 
Link
OMG Network
USD Coin
PAX
Bybit's Smart Trading System enables to take up profit & eliminate loss at entry, notify strategy alerts and adjust orders with just one click. It offers the top-class market depth, with each trade to be executed with minimal price at impact. 
The leading HD cold Waller system assures the safety of the user's funds. 
The Bottom Line
A trading chance is only as good as the amount of money you're willing to put into it. Crypto asset dips are common, but not all will bounce back. Extensive research is one of the finest methods to utilize. You'll almost always discover that information is worth more than a little discount on a deal, and with the necessary information, you can decide should you buy the dip?
Please find the list of authentic Unocoin accounts for all your queries below:
Disclaimer: Crypto products are unregulated as of this date in India. They could be highly volatile. At Unocoin, we understand that there is a need to protect consumer interests as this form of trading and investment has risks that consumers may not be aware of. To ensure that consumers who deal in crypto products are not misled, they are advised to DYOR (Do Your Own Research).