It's wondrous, how time passes so fast. It feels like yesterday when the substructure of this revolutionary organisation was laid by two friends, Sathvik Vishwanath and Sunny Ray. Now, it has been exactly 9 years. In these years, we didn't just evolve as a company but were the force underneath validating the existence of our industry in India. 
Well, to phrase it correctly, just like all the other innovations, the beginning of our chapter was also based on curiosity. And, this curiosity revolved around money. Obviously, the same curiosity led to the creation of Bitcoin by Satoshi Nakamoto in 2009. But, little did the world understand back then that this could be the legit messiah for the people facing so many financial problems at different levels all over the world.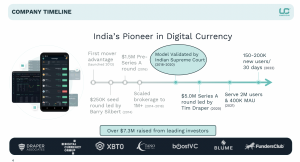 The beginning
Canadian-born Sunny Ray who is the Co-founder of Unocoin started a blog site called "Unocoin" (Uno is a spanish word meaning "one") out of sheer fascination for Bitcoin (Bitcoin = Unocoin, "the one").
Later on, while conducting one of his community meet-ups in Bangalore, India, he came across Sathvik Vishwanath, a techie possessing great zest for cryptocurrencies. Their thoughts clicked, and Ideas matched. But, the only problem was how to bring this technology to a country like India, which was amongst the lowest when it came to financial literacy. And, that's when India's first cryptocurrency exchange came into existence.
The initial years
While this fast-paced technology was a stunner for the world's most prominent billionaires, people in India were still very skeptical and speculative about the technology. Indeed, the initial years were full of ups and downs, and existential validation was still to be found, but, that's when Barry Silbert, one of the most prominent people in the world of crypto decided to invest in us. 
More than an investment, this was a stamp of accreditation for Unocoin. 
Attaining the legal right to exist
Time flew and our prominence grew amongst the Indians willing to explore the new wave of financial technology but the Indian Government was highly speculative of the uncertainty that revolved around the asset market that was rapidly growing. Thereby, proposing a blanket ban on cryptocurrencies. Again, it created a burst of the tempest for the company, many in the business even decided to pull the shutters down. But, our third founder Mr. Harish B. V. decided to stand up against it and triumphed. The verdict definitely was a beginning of a new era, and the crypto space had gained the validation it most sought, over the years.
Now, it's been 9 years, the founding pillars remain intact, Unocoin has grown tremendously, and we continue to work towards providing financial freedom to our fellow Indians tirelessly. To many more wonderful years to come. Happy 9th Anniversary Uno-community!