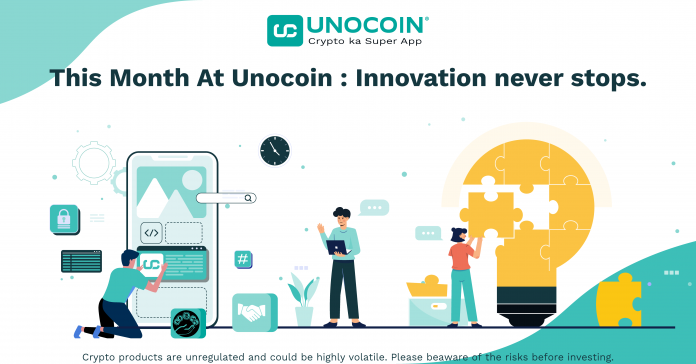 Our team values ​​remained unchanged despite varying market sentiment. We will continue to build for our users and a larger space of digital assets. Blockchain is a powerful technology that will transform many aspects of our lives. 
In October 2022, we found more ways to move the industry forward and bring together the brightest minds in cryptocurrency. We are launching an incredible array of new products—with new updates and features rolling out—while still putting our users at the center of everything we do.
With our co-founder Mr.Sunny Ray, we had the Bitcoin Meetup in India, a four-hour event at Sheraton Grand, Bangalore. Exploring the best of Bitcoin and regulations in India, CBDC, etc., and expanding our ever-growing suite of products, including a more user-friendly way. 
At the same time, our team has continued to drive product innovation – which we at Unocoin see as a critical driver of industry growth.
Here's a quick rundown of the biggest updates to our ecosystem this month:
Sub Broker: Users who do not have much knowledge about trading or have enough time for trading can opt for a Sub-Broker. An Unocoin verified user would choose to have his/her orders processed for him/her by a chosen sub-broker. After logging in, a user can go to the settings page and will be able to select a sub-broker using the mobile number of the sub-broker.
We have added a new source of blog theme content for our users to educate and inform them about Unocoin and cryptocurrencies and everything they need to know about them.
To give our fellow Unocoiners access to the best crypto available on the market, we recently added five new coins to the exchange as follows:
NEAR, COTI, RSR, REEF, ATOM
Unocoin, an Indian cryptocurrency trading exchange, has announced a referral and earning program for our traders. Through this program, the exchange aims to allow existing users to earn a whooping 51% of trading fees for every transaction made by their referral.
Welcome Bonus: Upon successful registration of each user, Unocoin is provided with a welcome bonus of 10,000 SHIBA INU, which the new user can use for any trading they wish to do.
With a low-cost interface and services, Unocoin provides its users with a trading experience, offering features such as low fees, high security, and active INR and crypto deposits and withdrawals.
And also for people looking to activation of old features
We have brought back market ordres on exchange
Vouchers feature is again active
The possibilities and ground-breaking innovations that crypto and Web3 bring can no longer be denied. If the Internet changed the world as we knew it a few decades ago, the crypto/web3 ecosystem is a space that is just heating up and offers us a whole new dimension like Metaverse and a decentralized platform to explore and expand. At Unocoin, we are not only working to create a crypto ecosystem, but we are also on the way to building the Indian crypto industry.
Unocoin, India's first crypto exchange, is on a mission to make cryptocurrencies accessible and lead the development of the crypto ecosystem in India. Since its inception, Unocoin has always been at the forefront of crypto innovation. With the Crypto Investment Plan for regular investing, India's leading crypto exchange has always strived to simplify the crypto space for the crypto community. Innovation was a key pillar of the company. Not only is Unocoin focused on educating the masses about the basics of cryptocurrencies and blockchain technology through our educational portal https://blog.unocoin.com/, but we have also put in place the best security measures in the industry to help investors and traders explore the crypto space safely.