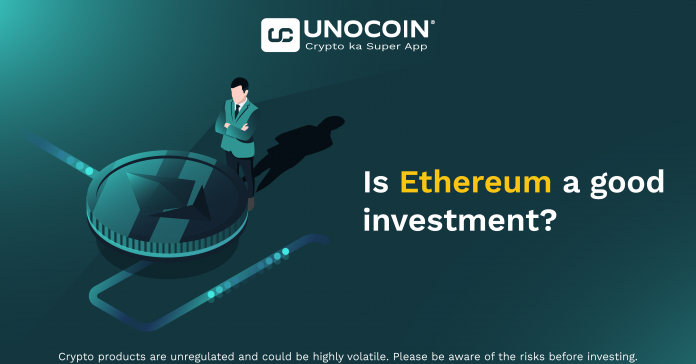 2022 has been brutal for most crypto markets. Ethereum has been volatile due to many issues, not the least of which is the overall financial condition of the markets. Risk appetite has been gutted and therefore cryptocurrencies have suffered.
However, it should be noted that massive selloffs are nothing new in crypto. In 2021, the total value locked in the Ethereum network reached more than $90 billion, and demand is only expected to grow in the longer term. Almost 25% of all ETH in circulation is held in smart contracts, with a significant portion of this being relegated to the ETH 2.0 address.
The update, called EIP 1559, should theoretically make the supply of ETH much rarer over time. Wall Street is taking notice of Ethereum's ability to be so many things in the long term, bringing institutional money into the market. That being said, Ethereum and the rest of the cryptocurrencies have been shown to have a high correlation with risk-taking assets such as stocks and some futures markets.
Ethereum Sentiment Analysis
With the explosion of the DeFi and NFT markets, the mood for Ethereum in 2021 has taken off. However, Ethereum will also be sensitive to external issues, including monetary policy and inflation. While crypto is still an area that should expand in the long term, the reality is that 2021 saw a lot of institutional money entering the market. Because of this, sentiment analysis is a bit different than it used to be.
The Federal Reserve is entering a tightening cycle due to inflation concerns. This highlighted a change in drivers for the market as institutions are much more likely to invest in bonds or even US dollars when there is uncertainty. In a sense, part of the "growing up" of cryptocurrencies was that market behavior shifted to a much more traditional correlation. As the appetite for risk increases, so will the price of Ethereum and vice versa.
One way to measure sentiment analysis in the future will be a combination of tracking interest rates, currency markets, and stock markets. 
Ethereum Price Expert Expectations and Predictions
Ethereum is generally expected to have a promising future. However, predicting the future price of Ethereum is challenging because multiple internal and external factors come into play. For example, even though Ethereum 2.0 will address many of Ethereum's growing problems, its rollout has been somewhat slow.
Global markets struggled in 2022 and it was felt throughout the crypto industry. Several stablecoins and DeFi lenders have collapsed, which has a certain "knock-on effect" on the price of Ethereum, as with all cryptocurrencies. In this environment, estimates are everywhere. However, it is generally accepted that prices will rise in the long term.
Bloomberg news analyst Mike McGlone estimates that it will end the year between $4,000 and $4,500 and rise through 2023. That would be a full recovery of all the losses that Ethereum suffered at the beginning of the year.
Coinpedia, a popular cryptocurrency website, has several analysts who believe that Ethereum could see a massive price increase if the rollout of Ethereum 2.0 goes smoothly and quickly. Some high-end predictions include a target price of $12,000 by early 2023.
Ethereum co-creator Vitalik Buterin, the face of Ethereum, warned that the stock-to-flow Bitcoin price prediction model "really doesn't look good right now." While he was talking about Bitcoin, the price of Bitcoin affects the price of almost all other coins. If his observations are correct, it further supports the idea of ​​trading derivatives such as CFDs(Contract for Difference) to take advantage of uncertainty and volatility.
Advantages and Disadvantages of Ethereum
Remember that Ethereum is a highly volatile asset and a new technology. The market is constantly threatened by what is supposed to be the next "Ethereum killer", but no other project has been able to come close to Ethereum in usage or utility.
Brand Name Recognition: Ethereum has a significant brand name effect behind it, being one of the original altcoins. It is the hottest token in the crypto market due to the use of both NFT and DeFi.
Smart Contract Platform: Ethereum is a smart contract platform that is well-tested and has the ability to perform permissionless transactions, which could be the future of finance.
Ethereum 2.0: Ethereum 2.0 is being rolled out, which should increase transaction speeds and usage scenarios.
Disadvantages
Previous scaling issues: Ethereum has had scaling issues due to the strong demand for DeFi usage.
ICO Treasuries: ICO Treasuries still hold a significant amount of Ethereum that could one day dump their tokens.
Competition: Competition exists and several networks are competing to be the next "Ethereum killer". In the end, only time will tell if anyone succeeds.
Fees: Fees have been extremely high at times, discouraging investors from transacting on the network and with the token. However, Ethereum 2.0 is supposed to address this issue.
CONCLUSION:
Ethereum can be an excellent investment due to both its easy availability for retailers and the long-term growth potential the network has. Ethereum is also available on Unocoin with many astounding user-centric features including seamless deposits and withdrawals.
Please find the list of authentic Unocoin accounts for all your queries below:
Disclaimer: Crypto products are unregulated as of this date in India. They could be highly volatile. At Unocoin, we understand that there is a need to protect consumer interests as this form of trading and investment has risks that consumers may not be aware of. To ensure that consumers who deal in crypto products are not misled, they are advised to DYOR (Do Your Own Research).