The Federal Reserve decided to raise interest rates by 75 basis points or 0.75 percentage points on Wednesday, signaling rates may go higher than investors expected as the central bank battles decades of high inflation.
The latest hike lifted the Fed's key policy rate to a range of 3-3.25%, the highest since early 2008. It comes after recent consumer price inflation data came in hotter than expected, surprising some analysts and showing that inflation became sticky, widespread,\l] and is the result of strong demand rather than supply issues. Ahead of the August CPI report earlier this month, many on Wall Street expected the Fed to slow its pace and raise rates by half a point in September.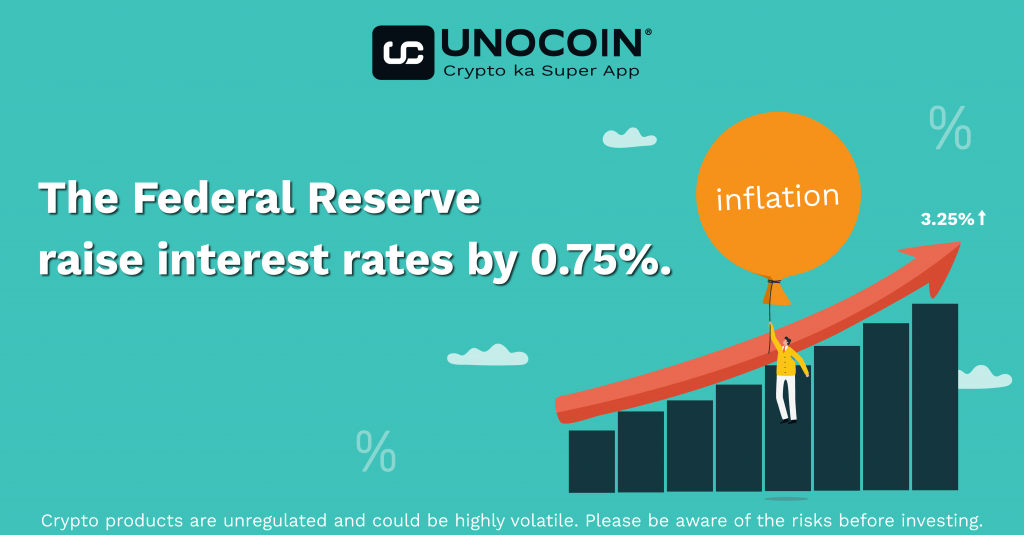 Rates
Fed leaders are likely to discuss the possibility of a 100 basis point hike at the meeting after core consumer prices rose more than expected in August. Markets peg the likelihood of such an increase at nearly 20%, with one Wall Street forecaster, Robert Dent of Nomura Securities, even calling it a likely outcome.
At the last meeting in July, Powell left the door open to such a move when he said "we would not hesitate to take an even bigger step than we did today if the committee came to a conclusion," which was appropriate.
Summary of Economic Projections
The updated summary of economic projections will include policymakers' first forecasts for 2025. While most investors will focus on the rate forecast for this year and next, the projections may also show that the FOMC expects to keep rates higher for longer, with rates falling to just 3. 6% in 2024 and 2.9% in 2025.
Powell emphasized that the Fed is trying to reduce growth below its long-term trend and reduce demand in line with limited Covid supplies. With that in mind, the committee is likely to cut its growth estimates for 2022 and 2023 and could raise its unemployment rate estimates for 2023 and 2024, according to economists polled by Bloomberg.
With inflation persisting more than expected, the Fed may not see inflation returning to its 2% target until 2025.
FOMC statement
The Fed is likely to reiterate that recent indicators of economic growth have moderated while continuing to promise "continuous" interest rate increases without specifying their size. Some economists say the statement could include that the pace of growth will slow at some point, echoing Powell's public comments in July and at the Fed's August conference in Jackson Hole.
After last week's disappointing consumer price index that showed core inflation excluding food and energy accelerated, the committee could also decide to express more concern about inflation, said Derek Tang, an economist at LH Meyer in Washington.
"Watch for improvements to the wording on inflation: for example, inflation is higher and moving away from our target," he said.
Press conference
Powell's July press conference was widely interpreted as dovish on Wall Street, as he said the central bank was backing away from explicit forward guidance on rates and expected the pace of hikes to slow at some point. Fed officials spent the following weeks making clear their view that they were not backing down from the fight against inflation.
With that in mind, Powell could try to ensure his message is seen as suitably hawkish and clear up the meeting. "The most important thing is what Powell says," Perli said. "There have been communication hiccups in the last few press releases. I hear the concern that Powell will say something that will lead the market to believe something that is not accurate. People are afraid of repeating this experience."
Please find the list of authentic Unocoin accounts for all your queries below:
Disclaimer:Crypto products are unregulated as of this date in India. They could be highly volatile. At Unocoin, we understand that there is a need to protect consumer interests as this form of trading and investment has risks that consumers may not be aware of. To ensure that consumers who deal in crypto products are not misled, they are advised to DYOR (Do Your Own Research).