Crypto is any digital or virtual currency that uses cryptography to secure transactions often performed on the internet. With advanced coding, cryptographic data is stored and sent between wallets and public ledgers. Encryption's goal is to give security and safety to the transactions.
Crypto payments exist mainly as digital records in online databases representing specific transactions, rather than moving and exchanging physical money in the real world. The transactions you do with crypto money are recorded in a public database. Most people are interested in trading for profit, with speculators sometimes driving up prices.
A crypto loan is an easily accessible service that allows you to borrow funds with little risk and leverage to meet your needs. You get a low-interest crypto loan that is simpler to repay than regular loans.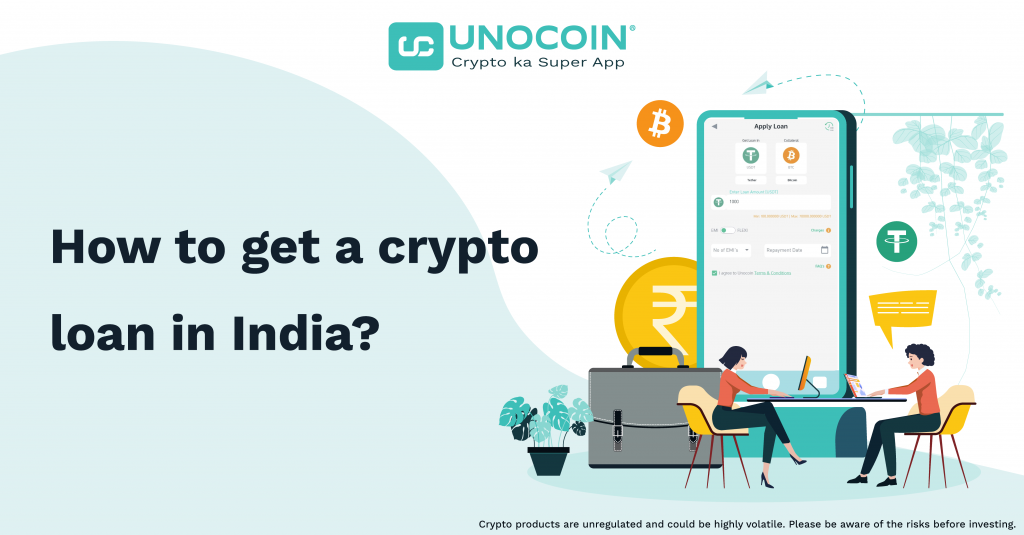 What is a crypto loan?
A crypto loan is a collateralised loan that one can get from a crypto exchange or crypto-lending platform. It is similar to a securities-based loan in that it employs digital money as collateral to secure funding. Your crypto is an asset you receive in return for another crypto from a lender, which you can repay over time. If you fail to repay your loan, the lender may sell your crypto, forcing you to forfeit it.
You can receive passive income and interest (called Earn Interest) by depositing your crypto into a pool that handles your assets. There is usually a minimal danger of losing your funds, depending on the stability of the smart contract you choose. Crypto lending services are available on both centralised and decentralised platforms, but the fundamental concepts remain the same.
How to get a crypto loan in India?
A crypto loan is a secured loan obtained from a crypto exchange or a crypto-lending platform. Investors can borrow money in cash or crypto assets by pledging another crypto as a security. 
Select a trustworthy platform 
First and foremost, you must select a trustworthy and transparent platform for borrowing crypto assets. Several platforms in India offer attractive deals and entice people to lend crypto. However, until it is trustworthy, there is not much you should do. Borrowing using any platform can be risky, so research the platform first.
Once you have found a trustworthy platform, check to examine if they can borrow the crypto you wish to lend. Borrowing using any platform can be risky, so you should wait till your research is finished.
After you have found your desired crypto and crypto exchange, you will need to determine the annual return on the crypto assets you want. It depends on market conditions, the return you like, your risk tolerance and sometimes the lending platform that you choose.
You will stake your crypto collateral after applying for a loan and wait for investors to fund the loan. Investors will be paid interest, and the crypto collateral will be returned to you once the borrower (in this case, you) has paid off the loan.
Things to consider before getting a crypto loan
A crypto loan gives you various options, which can be advantageous. However, before you rush into lending or borrowing, keep the following suggestions in mind:
Examine the market situation
It would be best if you had some market understanding before taking out a loan to understand its ups and downs and prevent losses. After you take out a loan, your coins may be locked in for some time, making it impossible to respond to a crypto market downturn.
For the loan, coins are taken from your wallet, and the balance is deducted afterwards. Hacks and scams are common project targets, and your funds may not be instantly available for withdrawal in some situations.
Know the loan's terms and conditions
Numerous methods for obtaining the loan are available, but you should not proceed without reading the terms and conditions first. You should seek better interest rates and only *sign up for practical terms and circumstances.
Fear of account termination
You will need to offer extra liquidity if the value of your collateral falls below the minimum; otherwise, your lender may be obliged to close your loan account.
Late payment can incur additional charges.
Late payments will result in your account being closed, and you have to pay a liquidation charge. If you borrowed fees from finance loans, you would be required to pay as much as 2% of the total loan amount.
Bottom line
Crypto loans can be advantageous if you have crypto assets but need cash to fund expenditures. Crypto is rapidly expanding, offering investors and enthusiasts new ways to increase their wealth, get liquidity, and earn income.
With borrowing and lending of crypto assets, users of the crypto lending platform can employ intelligent contracts or a collateral-based technique. Crypto loans have benefits, but it is always a great idea to consider the cons before deciding.
Unocoin is the most advanced trading platform for trading crypto assets in India. We make it easy to buy, sell, store, use and accept bitcoin securely in India by offering the ability to trade various digital assets on a secure trading platform. 
If you wish to take a loan and pay using EMI, watch this video: https://youtu.be/DY1Pb7RuMeI
If you wish to take a loan and pay as per your wish or will, watch this video: https://youtu.be/DY1Pb7RuMeI
Start your crypto journey today! Love Crypto Coins. Love Unocoin.
Please find the list of authentic Unocoin accounts for all your queries below:
E-mail id:

[email protected]

Contact details: 7788978910 (09:30 AM IST – 06:30 PM, Mon – Sat)
Disclaimer:
Crypto products are unregulated as of this date in India. They could be highly volatile. At Unocoin, we understand that there is a need to protect consumer interests as this form of trading and investment has risks that consumers may not be aware of. To ensure that consumers who deal in crypto products are not misled, they are advised to DYOR (Do Your Own Research).