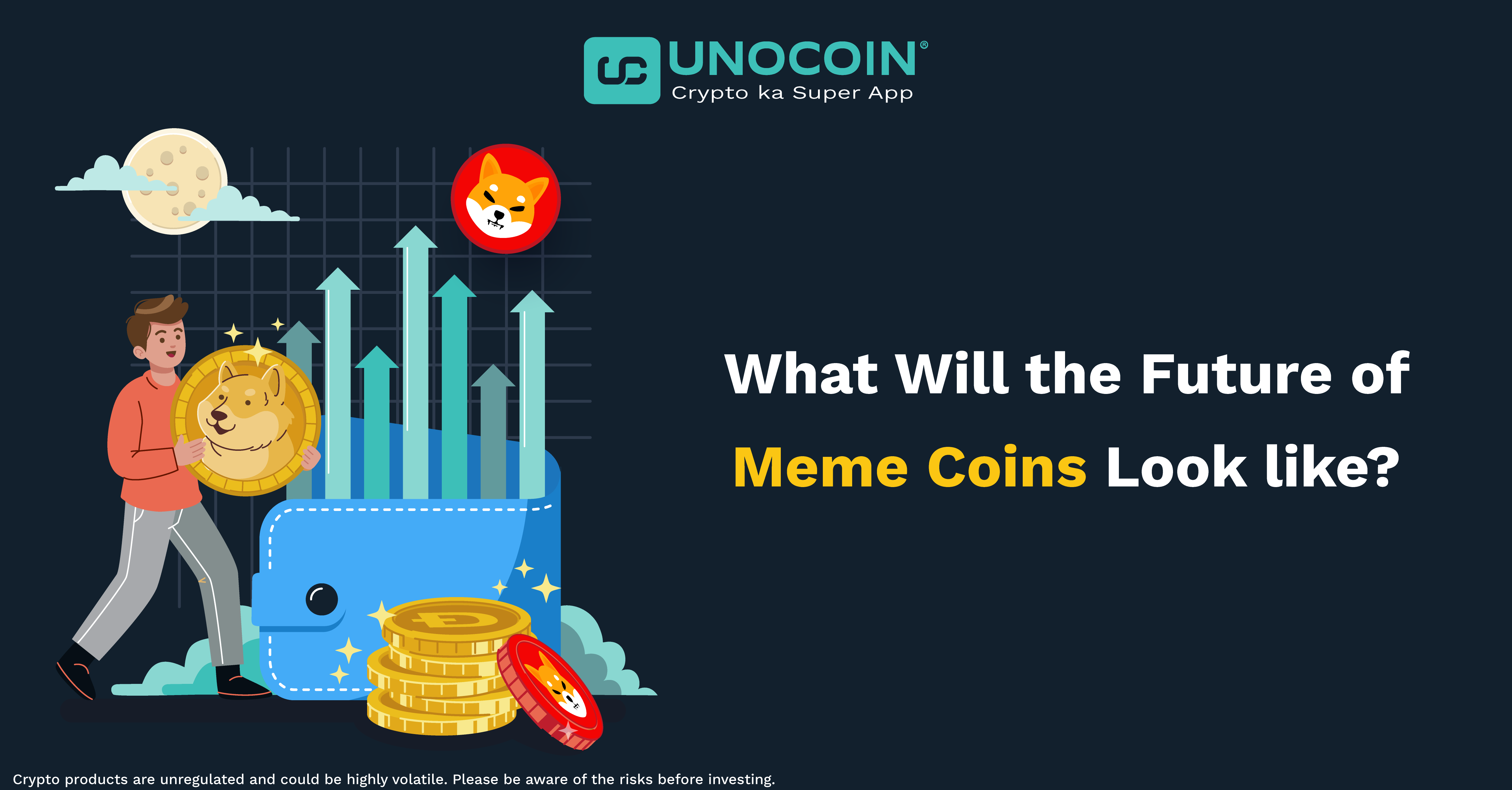 What are meme coins?
The cryptocurrency market is still in its infancy and has a long way to go, so learning about them is never too late. Meme coins are the rising crypto assets of 2022. As the name suggests, meme currencies are inspired by memes or any media that capture funny ideas shared on the internet. Meme coins are intended to circulate like the memes they are based on. Meme currencies, unlike utility tokens, are typically not used to make purchases within a particular ecosystem. They are available for trade. The different meme coins are as follows:
Dogelon Mars (ELON)
Shiba Inu (SHIB)
Dogecoin (DOGE)
Baby DogeCoin (BabyDoge)
MonaCoin (MONA)
Shiba Predator (QOM)
Hoge Finance (HOGE)
Knowing what will go viral before it happens is the secret to making money with meme coins. If you decide on purchasing one, you should know them and the trading platforms like Unocoin, wherefrom you can trade them.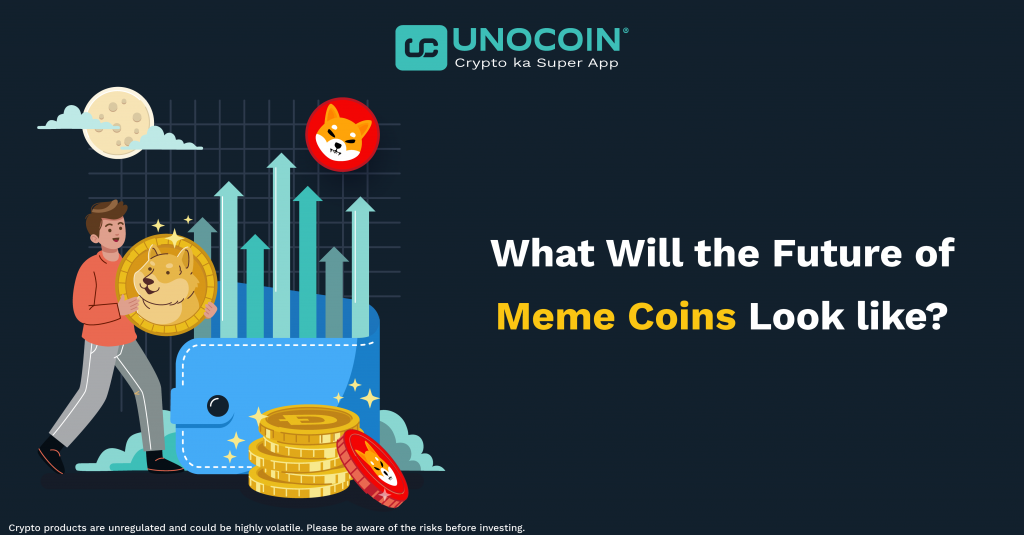 Origin of meme coins: A revolution
Along with the greatest familiar crypto assets like Bitcoin and Bitcoin cash, meme coins became very popular in October 2021 when Elon Musk, the Dogefather, advocated the use of Dogecoin, one of the first meme coins. The Shiba Inu coin (SHIB) is the alternate-second largest meme coin on the market. Because meme coins are not built on an ICO, they support organic growth more than other common cryptocurrencies.
Different influencers have shown interest in the future of the meme coins, especially Dogecoin, like Elon Musk, Discord, Reddit and WeChat. Elon Musk, in particular, was in support of Meme coin. He continues to post tweets about Dogecoin to start taking them as a mode of payment, which has increased its trading value and shareholders.
Dogecoin's Market Cap is $8,779,370,412 at the time of writing this blog, whereas Shiba Inu's Market Cap is $5,494,630,036.
Meme coins do not give or sell services like many other cryptocurrencies, but they are still worth more. They are gaining popularity in the present world. The trading platforms are much more engaging and stimulating with their high vulnerability.
How to Identify a Meme Coin?
Meme coin became popular through being promoted on social media and frequently working with/for influencers.
Typically, the "idea" or "brand" of the token is based on popular culture or a ridiculous name.
Meme tokens must be driven by virality, so the brand or face of the token must be trendy, adorable, humorous, and memorable. Meme tokens can occasionally be parodies of other meme coins.
The development team explicitly states or uses wording to the effect that their project is a meme coin.
Let us talk about different meme coins available on the trading platforms.
As per experts, few meme coins will have strong demand in 2022. These include:
Dogecoin (DOGE)
Dogelon Mars (ELON)
Shiba Inu (SHIB)
Baby DogeCoin (BabyDoge)
MonaCoin (MONA)
Shiba Predator (QOM)
Hoge Finance (HOGE)
Dogecoin
DogeCoin is not yet at its peak but is still the most valued meme coin of 2022. It was developed by Billy Marcus and retained by Elon Musk. It is predicted to be between $0.98 and $1.18 by 2028. Overall, it has an average cost of $1.1 around the year.
Dogs Of Elon: Meme Token for NFTs
It is a fresh meme coin design, sharing over 10,000 non-fungible tokens (NFTs that are Ethereum-based NFT avatars). They are also about to enter the world of gaming on a P2E platform (Play to earn).
It is presently trading for a value of $0.04, with a 0.27% drop in the last 24 hours.
DogeDash – Newest Meme Crypto for play to earn (P2E)
It is the newest meme coin crypto- asset P2E, analogous to the super Mario game of the 90s in which we dashed and jumped on our way to avoid obstacles and collect money. Its concept is similar, except that it allows you to collect real money.
Shiba Inu meme coin- also known as the Dogecoin Killer
The Dogecoin Killer was developed by Ryoshi and released as a sociological experiment in late 2020. Its goal was to dethrone Dogecoin from its prominent position, hence the name. It is also looking for expansion in the Metaverse. It will soon introduce virtual real estate called Shiba Land.
Akita Inu- Ethereum network chain
Akita can be your answer if you are looking for good meme coins other than Dogecoin. Built by the Ethereum community, Akita aims to utilise the broad chain network interoperability provided by Ethereum co-founder Vitalik Buterin and Uniswap.
Overall, what is the future of meme coins?
Meme coins are trendy and are here to stay. The operation of top meme coins peaked in May 2021, declined in December 2021, and increased again in April 2022, making it highly unpredictable. Its value depends on the supply and demand chain and its popularity. Like other crypto assets, meme coins are also non-regularised in India and numerous countries. Still, some countries have taken steps to regulate them in a central position. El Salvador became the first country to use bitcoin as a sanctioned currency. In the future, it will be used for more than just online payments and trading; it may even be used to replace paper currencies.
When looking for a meme coin, take the following precautions: conduct your research, reach out to financial advisors before choosing any coin, and compare the value of meme coins on trading websites like Unocoin.
The world's first and most secure bitcoin & other cryptocurrency trading platform, Unocoin offers users the ability to buy, sell and accept cryptocurrency in real-time. With a variety of cryptocurrency options available on this platform, users can easily invest in their favourite coins with ease.
Please find the list of authentic Unocoin accounts for all your queries below:
Disclaimer:
Crypto products are unregulated as of this date in India. They could be highly volatile. At Unocoin, we understand that there is a need to protect consumer interests as this form of trading and investment has risks that consumers may not be aware of. To ensure that consumers who deal in crypto products are not misled, they are advised to DYOR (Do Your Own Research).