Proof of Reserves (PoR) is a concept that ensures transparency and trust in the management of user assets by cryptocurrency exchanges. When we talk about Proof of Reserves, we specifically mean assets held in blockchain-based hot and warm wallets, and in cold storage for Unocoin users. In simple words, this means that Unocoin is providing verifiable evidence and proof that it has sufficient funds to cover all user assets 1:1.
For example, when a user deposits one bitcoin into their Unocoin account, the Unocoin reserves held on behalf of its users will increase by one bitcoin, and that user would see his wallet balance going up by one bitcoin. This PoR report guarantees that all such user's balances exist in the crypto wallets of Unocoin and that all such balances are fully covered.
In general, this means that Unocoin holds all user assets at a 1:1 ratio, along with additional reserves if any, ensuring the safety and availability of user funds. This is the same as saying even if all users withdraw all their crypto and INR balances today, Unocoin has reserves to support all of them without any dependency on any third party that is liable to pay Unocoin.
The contract described in the information below was performed by an independent auditing firm who in turn has used external technical expertise to verify the authenticity of claims by Unocoin. They performed the agreed procedures and arrived at the stated findings and results ensuring an objective assessment of the relevant information.
The contract for proof of reserves verification was executed in accordance with

Indian Standards for Related Services (SRS 4400)

and International Standards (ISRS 4400).

Verification of currency balances (INR) held at banks by reconciliation with Unocoin's ledgers and records.

The audit firm obtained a detailed list of Crypto Custody service providers and wallet addresses from Unocoin through web logins to the portal of these resources, including cold storage wallets and by directly visiting publicly accessible blockchain explorers.




The audit firm compared and documented individual holdings of Unocoin virtual digital assets (VDAs) with customer holdings for each specific VDA.
The findings are as per below:

The findings indicate that the total value of Customer Holdings is equivalent to INR 1,83,67,91,329 that includes VDA of approximately INR 1,76,04,24,094 as per the coinmarketcap rates and INR holdings value of INR 7,63,67,235.

In aggregate, Unocoin Holdings on behalf of their customers are greater than Unocoin's Customer Holdings.

Each value of VDA held by Unocoin is higher than the customer's held value of that particular VDA.

Approximately 98.85% of the BTC that Unocoin holds on behalf of its customer is in cold storage.

The total aggregated VDA in cold storage is 93.78%.
The report provided is made public through this link. Below is the last page of the report showing the Findings and Results: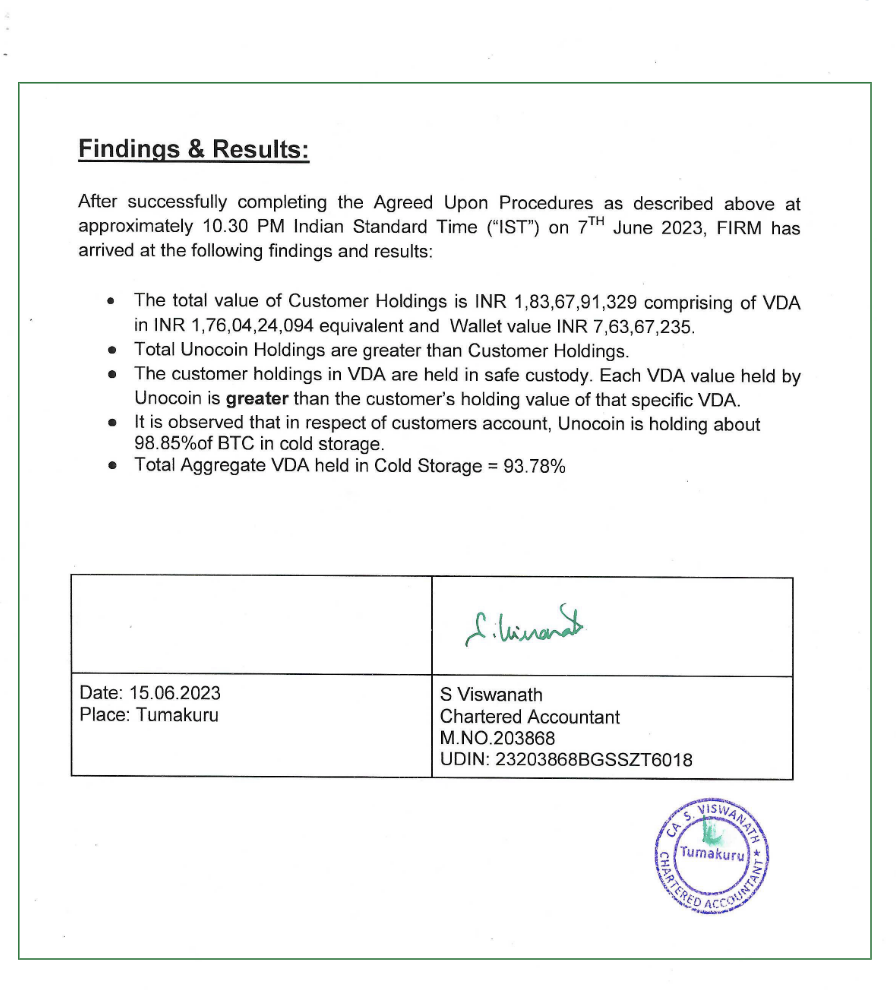 At Unocoin, our commitment to our community remains unwavering. Transparency, security, and protection of our user's interests are our priorities.
In our attempt to promote transparency, we are disclosing the below blockchain addresses that belong to our cold storage and these should cover more than 90% of our reserves.
Coins and address as part of audit:
BTC: 1PSh1go1ZBvULhGV4BsekEaVAAESa2fNWp
ETH: 0x6CC38B3F8cbF2b78996801D1B8D5FA441c33270d
XRP: rJ4yRC4C4SvejVC2uuNTd8zzrckGaxBZkG
MATIC: 0x6CC38B3F8cbF2b78996801D1B8D5FA441c33270d
LTC: M7wzMMiad7NpqvCM82mHt7MKP8DmNgkGB9
USDT: 0x6CC38B3F8cbF2b78996801D1B8D5FA441c33270d
FUN: 0x6CC38B3F8cbF2b78996801D1B8D5FA441c33270d
SHIB: 0x6CC38B3F8cbF2b78996801D1B8D5FA441c33270d
BCH: 1QEA3Em5zB9HnLLApvtwQ6sS6BhqXCcSti
BTG: AWuiZo4fDYnYWFS8dYfGVkgUMWn6n9nQdu and GWrRosYyxu5iKRmweFi7ZQEipDK13ZYuv6
FTM:0x6CC38B3F8cbF2b78996801D1B8D5FA441c33270d
LINK: 0x6CC38B3F8cbF2b78996801D1B8D5FA441c33270d
BAT: 0x6CC38B3F8cbF2b78996801D1B8D5FA441c33270d
UNI:0x6CC38B3F8cbF2b78996801D1B8D5FA441c33270d
ZIL: 0x6CC38B3F8cbF2b78996801D1B8D5FA441c33270d
GALA: 0x6CC38B3F8cbF2b78996801D1B8D5FA441c33270d
Edit trials:
On 23rd June 2023, for BTC, replace 1PSh1go1ZBvULhGV4BsekEaVAAESa2fNWp with 1JMXdyMbi2R4EKn8DQNZEEDzZBWPmsaXSR