Unocoin customers can now avail gift-vouchers of popular brands by paying through their bitcoin using their new voucher option
06 August 2021, India: Unocoin; India's first and most popular bitcoin trading site is now providing its users to buy vouchers from over 90 different brands by using Bitcoins. A registered user of Unocoin can use bitcoin worth as little as INR 100 and as much as INR 5000 to avail of these vouchers.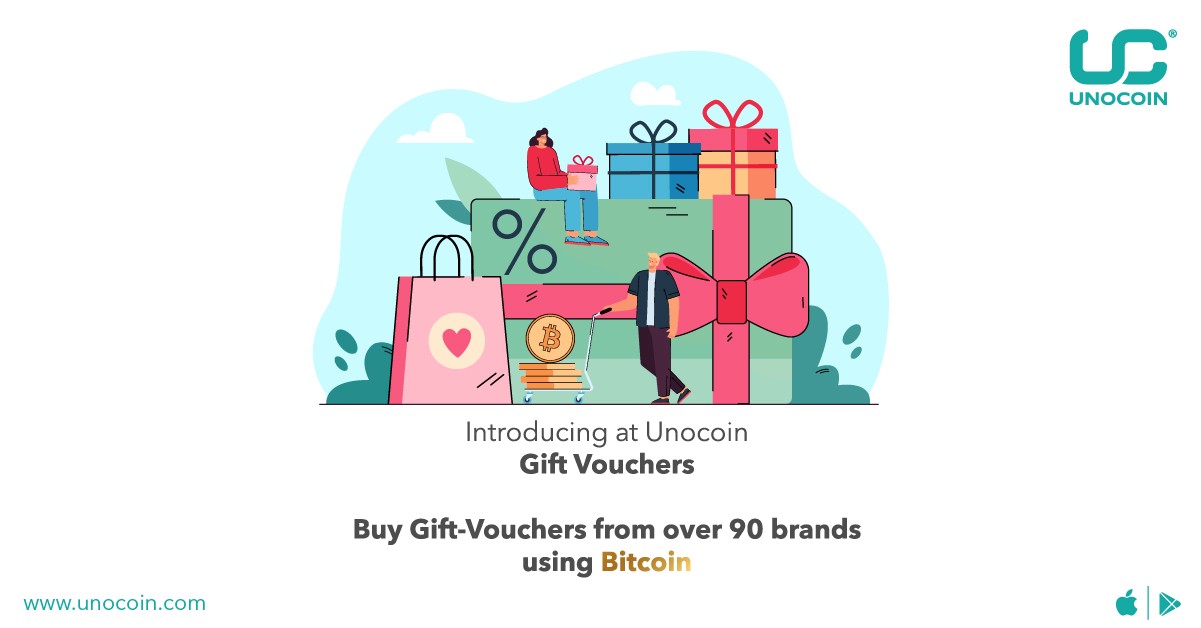 KYC verified users of Unocoin who have bitcoin in their wallets are eligible to participate in this offering. They need to login to their account and go to the BTC page. There, among the multiple options available, the user needs to click on Shop. If a user is functioning from the Unocoin app, then the Shop button can be found on the dashboard and in the More section. Here the user can shop from 90+ brands like Dominos, CCD, Baskin & Robbins, Himalaya, Prestige etc After selecting the desired brand, a dropdown menu will come from multiple INR denominations to buy vouchers. Once the user selects the amount the corresponding value of BTC will also be showcased to him and after paying the amount the voucher code is received by the user.
Sharing his views on the new development, Mr Sathvik Vishwanath, Co-Founder & CEO Unocoin said "Bitcoin as a barter asset is being accepted & traded by millions of users worldwide through this initiative we would like to educate the Indian audience about the multi-dimensional use of the cryptocurrency."
"While there are tens of thousands of physical outlets and e-commerce portals accepting bitcoin as a mode of payment in the countries like the US, our country doesn't have such acceptability yet. Our offering answers the popular question of where someone can spend bitcoin in India!" – He further adds
While the first and foremost reason a cryptocurrency like bitcoin got created is to allow users to do fast and free payments across the internet. While the bitcoin adoption takes some more time, this features by Unocoin forms an indirect way to pay using bitcoin on a popular e-commerce portal in India. Unocoin is providing its users with a diversified option of brands across sectors like travel, restaurants, lifestyle companies, clothes, accessories, hotels, and much more to use their Bitcoins as an alternative cash commodity. These vouchers can even make a fantastic gift to a loved one. All they have to do is to have to pass on the E-voucher information electronically or through printing it out and handing over the copy of the voucher.
About Unocoin:
Started in 2013, Unocoin is a Bangalore based technology startup and is India's first entrant into the bitcoin industry. The company operates India's largest (in Indian customer base) BTC-INR trading platform which enables Indians to buy, sell, store, use and accept bitcoin. At its peak, Unocoin processed transactions worth more than INR 2B per month for its 1,300,000+ customers.
The startup has been featured among the Top 20 companies in The Fintech20: India List, and have won prestigious titles like 'The Golden SABRE award' in financial communications for the project, 'Bit-by-Bit: Building Bitcoin in India' and 'TECH30' award from YourStory.
For more information, visit https://www.unocoin.com/in