The platform is the first in India to support sophisticated order book placements
Bangalore, India – 1st December 2020: Unocoin, the oldest cryptocurrency platform in India, has announced the launch of Unocoin Exchange, its new crypto exchange platform built for professional traders, fund managers and retail investors.
The launch, which follows Unocoin's beta Unodax platform, marks the expansion of the Company's existing brokerage model into a full-scale exchange model. The platform comes with comprehensive billing and invoicing functions to help fund managers and professional traders adhere to tax compliance and financial reporting.
"We are launching the Unocoin exchange as a straightforward and user-friendly platform for experienced traders and institutional investors in India to  participate in a globally expanding cryptocurrency ecosystem. In addition to a customised and secure trading platform, we will continue with Unocoin news, the Unocoin blog, and educational campaigns to help users excel in the crypto space. We're excited to witness the cryptocurrency ecosystem's continuing evolution. The announcement of Unocoin Exchange is just one piece in our larger commitment to the Indian crypto space." says Mr. Sathvik Vishwanath, Co-founder and CEO, Unocoin on the launch.
The Unocoin Exchange boasts an improved user experience from Unodax, with customised trading solutions that now also serves a wider investor clientele. New features include a completely redesigned platform for a more intuitive experience; simplified deposit and withdrawal processes; improved charts to access more historical data; a new consolidated portfolio view called "My Wallets"; new Lending and Earn Interest functions; a wider wallet page boasting 30 different coins
Apart from traditional limit orders and market orders, the platform is the first in India to support sophisticated order book placements, including split orders, enabling customers to place multiple orders at different prices with a single click; and ladder orders, helping customers take advantage of volatility with automatic order execution upon trigger of pre-determined price levels.
Expressing his views on the launch of the crypto trading platform Sunny Ray,  Co-founder and President, Unocoin says, "We are committed to building Unocoin Exchange into a world-class crypto exchange that can serve a wide range of professional traders, fund managers and retail investors. By facilitating multiple functions like investments, utilisation, buying, selling, lending, and earning interest with cryptocurrency, we are offering users a unique opportunity to become shareholders in the cryptocurrency ecosystem. As the decentralized ecosystem advances, we expect there will be many more opportunities for customers to interact with digital assets in new and unique ways."
Unocoin, the single pool of liquidity shared by all Unocoin products, will continue to be made available for Unocoin Exchange users. Trading fees, APIs, and security features will be the same for both platforms. To facilitate the migration, the current platform, Unodax will remain accessible to users for a period of time, with transactions, balances and activity mirrored on both platforms. After 31st March 2021, all users will be seamlessly rolled over to Unocoin Exchange, with Unodax being phased out. 
Unocoin Exchange Interface (Desktop)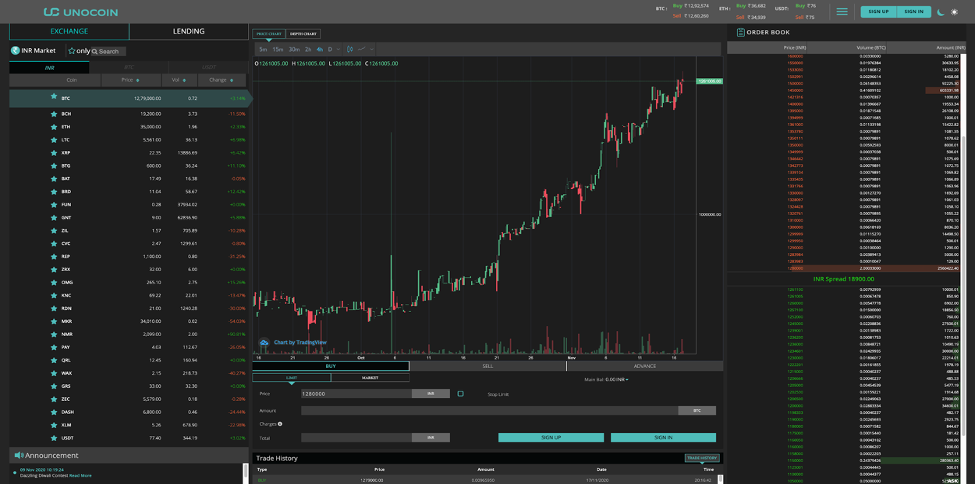 Unocoin Exchange Interface (Mobile)
For more details on Unocoin Exchange and its features, please visit https://www.unocoin.com/exchange
About Unocoin:
Started in 2013, Unocoin is a Bangalore based technology startup and is India's first entrant into the bitcoin industry. The company operates India's largest (in Indian customer base) BTC-INR trading platform which enables Indians to buy, sell, store, use and accept bitcoin. At its peak, Unocoin processed transactions worth more than INR 2B per month for its 1,300,000+ customers.
The startup has been featured among the Top 20 companies in The Fintech20: India List, and have won the prestigious titles like 'The Golden SABRE award' in financial communications for the project, 'Bit-by-Bit: Building Bitcoin in India' and 'TECH30' award from YourStory.
For more information, visit https://www.unocoin.com/in