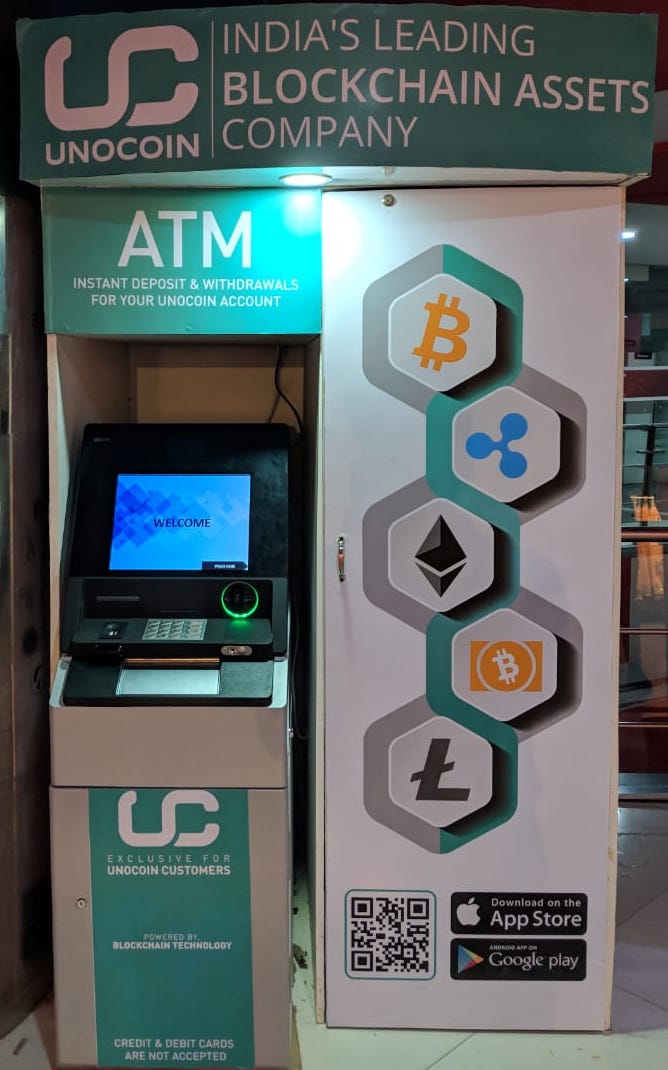 14 October 2018 Bangalore
We at Unocoin have always believed in serving our customers with the best of their interest and with the most secure services. Since December 2013, our team has been serving the Indian bitcoin and blockchain community by continuously innovating and making ways for a smoother and wider experience.
Due to the RBI's recent notification on 'Prohibition on Dealing in Virtual Currencies', our banking relationships were disrupted some time ago. Since then, we were then in the process of deploying new mechanisms for INR deposits and withdrawals. This was not a small undertaking and it took us some time to deploy new solutions, and now we are here with the implementation of Kiosk. The first Kiosk is being deployed in Bangalore to be followed by Mumbai and Delhi in a couple of weeks. Unocoin encourages its users to trade Crypto assets with INR by keeping into consideration the recent hurdles faced by Unocoin and its users to deal with Crypto assets.
How does the Kiosk work?
Unocoin and Unodax customers can deposit and withdraw INR from the Kiosk. Users are subject to some limits on deposit and withdrawals per transaction and per day subject to cash handling restrictions in India. The minimum amount for deposit and withdraw is 1000 INR and must be in multiples of 500 INR.
To deposit INR into his Unocoin/Unodax account, a user would reach to an Kiosk and enter his User ID and the OTP that he just received as SMS on his registered mobile number. The user would then confirm his account details and deposit the funds into the Kiosk machine. Instantly his Unocoin account will be updated with the deposited funds that he can use on Unocoin to buy BTC or ETH, or he can use it on Unodax to place BID orders on 30 various crypto assets.
The user can withdraw the deposit INR before or can withdraw INR that he obtained by selling crypto assets on Unocoin or Unodax platforms. To withdraw INR, users have to make a request by visiting Unocoin.com or through Unocoin mobile app where he would specify the desired amount for withdrawal. The 12 digit reference number from Unocoin is sent to the user. The user would then visit the Unocoin Kiosk to enter the reference number and OTP that was sent to his registered mobile number to withdraw the INR to his hands.
"Unocoin has always balanced the Indian investor's need to diversify their portfolio with this new set of available product assets in the form of cryptocurrencies and yet upheld the utmost need for transparency and self-regulation as required by all domestic regulators. In launching an Kiosk that's only available for its customers, they're once ensuring this balance." said Karthik Reddy, Managing Partner of Blume Ventures.
Unocoin's prime focus is to keep the crypto community alive in all way possible by respecting and ensuring the sentiments of our current government stance.