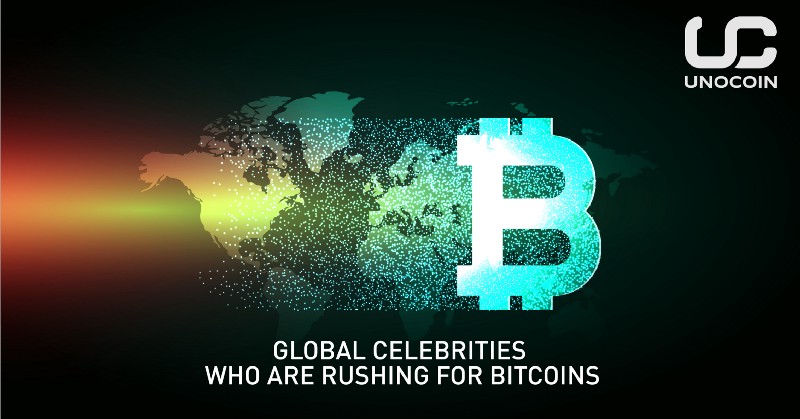 Bitcoins are for everyone — the unbanked, the rich and the famous. While there is a common misconception that bitcoin is only useful in the developing countries of Africa or elsewhere, these celebrities are proving them wrong. Such is the magnetic appeal of bitcoins — that it has reached out to some of the major celebrities who have started talking about bitcoins and invested in them.
#1- Ashton Kutcher
The actor, famously known for his role as Kelso, on the 70's Show, and the co-founder of A-Grade Investments also turns out be a very successful venture capitalist, investing in technological innovations like Skype, Uber, Spotify, Foursquare, and AirBnb.
Ashton Kutcher has been actively supporting the role of bitcoins in acting as a decentralized currency system and has endorsed through his investment in BitPay, the payment processor that allows merchants to carry out bitcoin transactions.
#2- Akon
The Hit Recording artist and music producer, Akon has gone out of his way to express his support for bitcoins. He also made use of the platform Milken Global Conference to clarify on the most common misconception about the uses of bitcoin, and said that it is useful for the unbanked people of Africa. He's gone on to mention that bitcoin is for everyone, calling it a global digital currency.
#3- Nas
The rapper and songwriter has made major investments in the bitcoin industry, along with his manager, Aymen Anthony Saleh. They have invested in over 40 startups including a digital wallet company called Coinbase, and their returns are said to multiplying every year. This really is a solid demonstration of the profit lying in investing in bitcoins.

#4-Drew Carey
Source: twitter.com
The best way for a product to be popularized is by celebrities talking about it, or rather tweeting about it. Actor and comedian, Drew Carey, tweeted about bitcoin, which did have an impact on businesses adopting bitcoin.
While the use of Bitcoin is still limited, its adoption has proved to deliver great profits for the businesses that did adopt this system of accepting payments.
#5-Mel B
The former Spice Girl and X factor judge made history by being the first musical artist to avail her single," For Once In My Life", in exchange for bitcoins. She was extremely excited to make the announcement and said," I love how new technology makes our lives easier, and to me, that's exciting. "Bitcoin unites my fans around the world using one currency. They can just pay using bitcoins."
#6-Richard Sherman
This Seattle Seahawks cornerback is among the first people to accept bitcoins in his online merchandise store, and has endorsed bitcoins a great deal. There was a slogan on the internet that read: Richard Sherman accepts bitcoin, even if Amazon doesn't. It has been said that he has invested over a million dollars into the bitcoins. The Stanford alumni also went ahead, and called it the 'currency of the future', wanting his fans to update to the latest technology in making purchases at his online store.
#7- Donald Glover
Popularly known as Childish Gambino, this actor and rapper has been very enthusiastic in showing his support for bitcoin. Glover believes that if we can adapt ourselves to the latest mobile technology, then why not Bitcoin?
In a TIME Magazine Q&A, Glover said, "I know a lot of people are skeptical, but I feel like if everything's going to live online, why not bitcoins? Being backed by gold seems very old and nostalgic to me. Being backed to a bitcoin, which takes time to actually make and there's this equation that has to be done, that feels realer to me and makes more sense."
After Hollywood, Bollywood celebrities have too, started out with the bitcoin, with celebrities like, Shilpa Shetty, Raj Kundra, R. Madhavan, Huma Qureshi Neha Dhupia, Vir Das, Nargis Fakhri, and Prachi Desai have shown enthusiasm about Bitcoin and have taken this enthusiasm to their twitter handles.

Also Read:
https://blog.unocoin.com/how-to-avoid-getting-scammed-on-bitcoins-bf7f120bd754