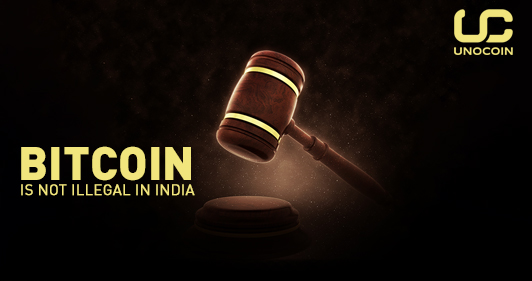 Recent media propositions have brought serious concerns to the users about change in the legal stance of Indian government towards the disruptive technology of Bitcoin.
There is a misbelief spreading among the community that Bitcoin has been regarded as illegal by the government and it is not true.
This is to clarify the people that Bitcoin is not illegal as per the provisions of Indian law and it is completely legal business to trade Bitcoin in India.
Very recently, a statement made by a respectable Minister of Parliament portraying Bitcoin as a Ponzi scheme started these media propositions. There are various MLM companies operating scams using Bitcoin and his statement is a possible indication of that and does not reflect the business of trading Bitcoins. His statement in no way can be considered as the government's stance on this matter.
While it is to be noted that disruptive technologies are always hard to be adopted easily and demand such hard opinions in the stages of early adoption. It would be an unwise decision to undermine the potential of these technologies without proper research and analysis. Fortunately, the apex financial institutes in the country such as RBI and SEBI are adopting a 'Wait and watch' mode to come up with comprehensive guidelines along with regulations to impose upon the industry soon.