India's dominant Bitcoin company pairs up with Bitwage to improve international wage distribution
BANGALORE, India – December 21, 2016 – Unocoin, India's leading bitcoin company, today announced the launch of a partnership with Bitwage, a blockchain-powered platform revolutionizing international payroll. Bitwage, named one of the top 21 blockchain companies in 2016, is the world's most efficient solution for international trade processing needs, cutting transaction costs and time with blockchain technology. Powered by Unocoin's recently announced, robust API, the Bitwage platform is accessible on all web, iOS, and Android applications. The partnership between Unocoin and Bitwage empowers millions of workers in India to take full advantage of opportunities from the current India's economic crisis.
With today's announced integration, Unocoin is helping Bitwage further expand in India, the world's second most populous nation. Contractors, employees, and others receiving wages or business disbursements can sign up on Bitwage; once they select INR as their currency, an Unocoin account is automatically generated. With the service, Indian employees will be able to receive their wages in INR from companies based in the United States, Europe, and United Kingdom, typically at far better rates than competitive services. Already, companies like Uber, Facebook, Google, and Airbnb send money to their employees through Bitwage.
As Bitwage uses bitcoin as a transfer mechanism, Indians can now receive payments from the United States, Europe and the UK at better rates than ever. For instance, an employee receiving $1,000 USD sent to India could receive 70250.00 INR with Bitwage, far more than an estimated 64481.60 INR through Paypal or approximately 65660.00 INR via Citibank India.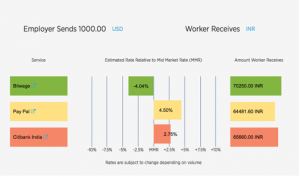 Sunny Ray, Co-Founder and President of Unocoin stated, "Our partnership with Bitwage could not have come at a better time for the people of India. We are excited to work hand in hand with a Bitwage, a company equally as committed to transforming and improving the lives of workers in India. The demand for Bitcoin in India is tremendous. Together with Unocoin, Bitwage is giving foreign employees in India an unprecedented arbitrage opportunity, so they can take home far more money from the same paycheck than ever before."
Added Ray, "I grew up in Canada watching my father send money to our family in India. Now  along with my co-founders, we created Unocoin to solve the problem of expensive fees and drawn out transaction times; this is just one way that digital currency can dramatically help humanity."
Jonathan Chester, Co-Founder and President of Bitwage said, "The partnership with Unocoin was an undeniable opportunity because of the profound impact it will have on the Indian community. The value of the Unocoin and Bitwage partnership goes beyond providing a faster, cheaper, and more reliable solution for international wage processing needs – It is helping revive the Indian economy."
"With the recent economic crisis in India, more and more people are turning towards Bitcoin. Unocoin is the bridge connecting the Indian community to the incredible benefits Bitcoin and blockchain technology have to offer. Our partnership with Bitwage furthers our mission to bring Bitcoin to the masses," concluded Ray.