New mobile app allows users to buy, sell, send, and receive Bitcoin on the go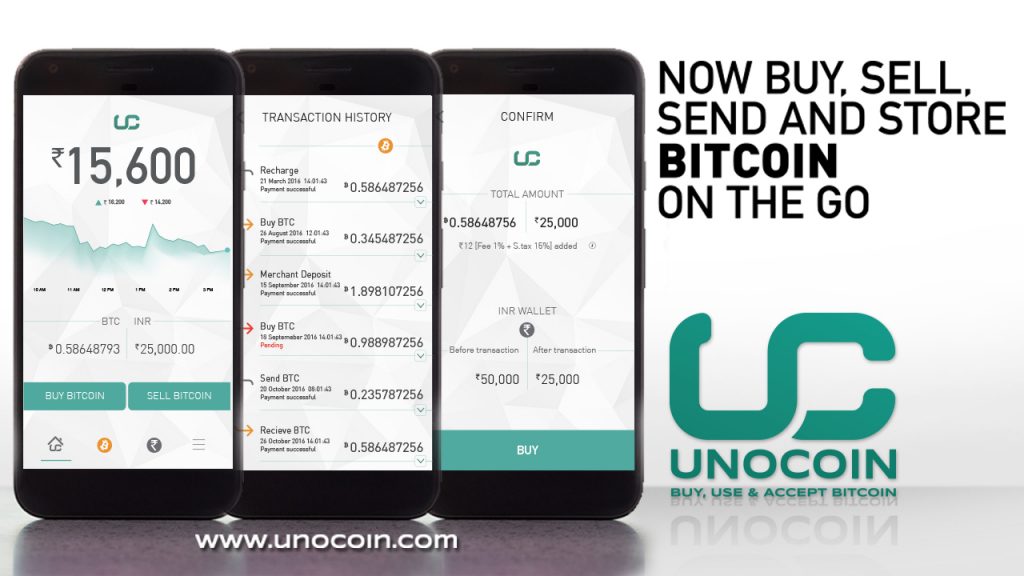 Bangalore, India – November 28, 2016 – Unocoin, India's leading Bitcoin company, has announced the launch of its new mobile app for both iOS and Android devices. Developed by Unocoin, the app will allow consumers to buy, sell, send, receive and store bitcoin all in one place, from any remote device. Unocoin becomes the first company in India to offer a full featured mobile bitcoin app, with 24/7 access to real-time bitcoin market prices and instantaneous trading transactions. The implementation is timely because bitcoin adoption is rapidly ascending in India, coupled by government's decision to demonetize 500 and 1000 Rupee notes. The implementation of a mobile app aligns with Unocoin's mission in enhancing mainstream adoption and help bring bitcoin into the hands of billions. Unocoin's app is currently live and is expected to accelerate demand for the world's most valuable cryptocurrency, particularly in a mobile-heavy market.
Abhinand Kaseti, Co-Founder and CMO of Unocoin said, "As of now, there are more than 1 billion Indians who use mobile phones. More than 300 million use their phones regularly for accessing the internet. This trend is expected to go up by 56% per year. We focused on creating a design and interface that provided a seamless user experience on mobile. Customer satisfaction, easy navigation and user simplicity are the most important tenets to us, and we wanted to provide an even more convenient way for users to access and manage their digital currency portfolio when a home or work computer is out of reach."
After raising a national record 1.5 million USD in October, Unocoin has released its app just weeks after implementing a robust new API. The company, whose mission is to "Bring Bitcoin to Billions," designed the app to include every feature already embedded into the company website. The app will include the buy and sell pairing for BTC/INR, mobile/DTH (Direct to Home Satellite Program) recharge, SIP (Systematic Investment Plan) access. Unocoin has also released its POS (Point of Sale) app on both App Store and Play Store to enable physical stores to accept bitcoin as a mode of payment about six months ago.
"We built this app from the ground up, using our very own public API, to ensure security and ease of use. It is secure with TouchID for iOS devices and password access for Android devices, and boasts a one touch button for buying and selling bitcoin, complete with inbuilt conversion. The dashboard displays the users BTC wallet, with the option to send and request bitcoin, and the INR wallet, with the option to add and withdraw Indian Rupees. The dashboard also features a 24 hour price graph, address books, messaging capability and transaction progress and confirmations," Kaseti said.
The Unocoin wallet app requires iOS 7.0 or later for iPhone, iPad and iTouch users, and Jelly Bean or later for Android users.
Scan the below QR code from your Android phone or iPhone to download the app and start using it.