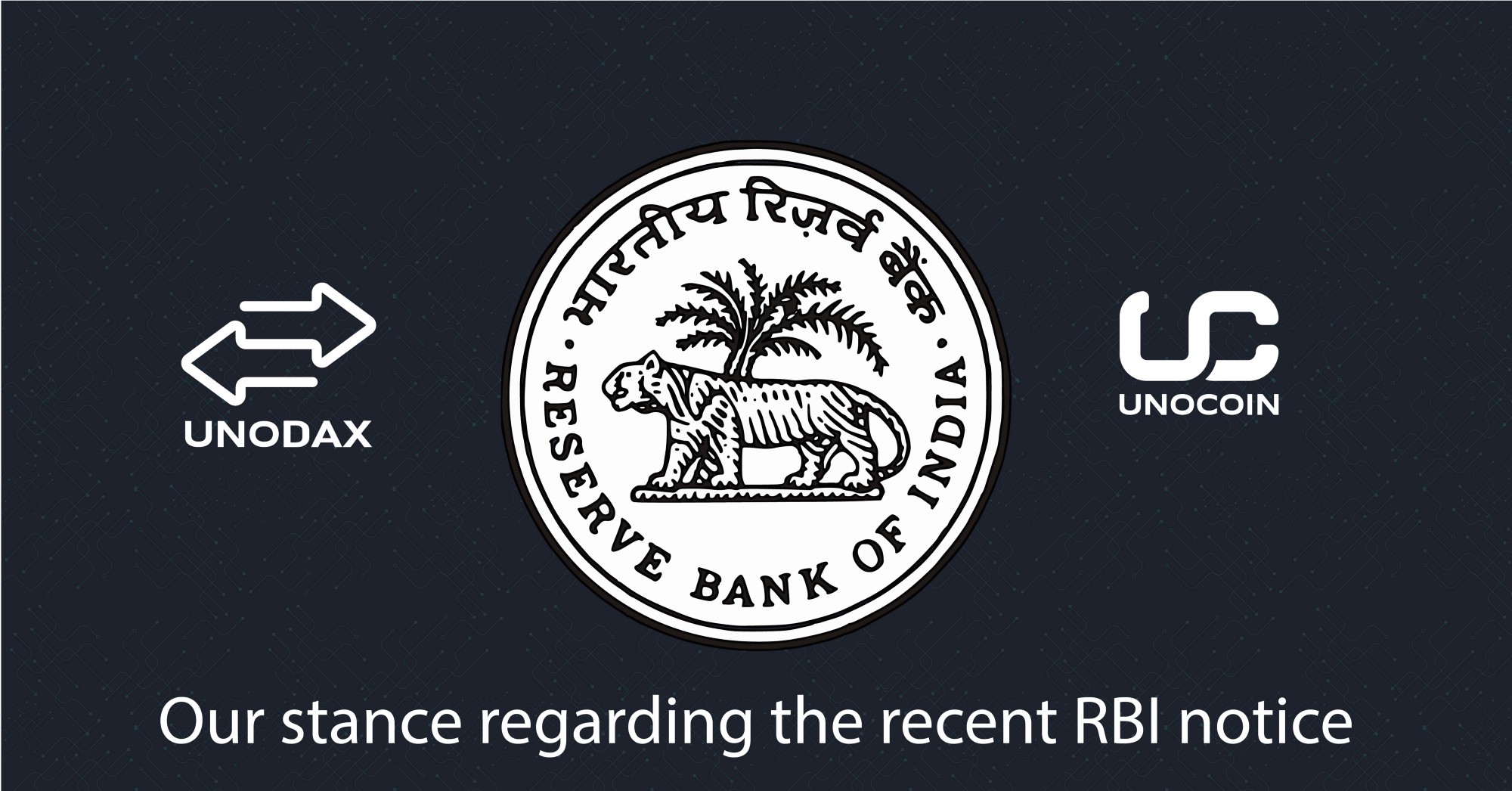 Dear Unocoin users,
We have always believed in offering our customers with the best and most secure blockchain services. Since December 2013, our team has been serving the Indian bitcoin and blockchain community by continuously innovating:
Industry-leading Crypto-Assets and Blockchain company offering two market-leading platforms: Unocoin, an online brokerage for trading bitcoin, and Unodax, an order matching crypto exchange.
Providing 24×7 customer support by email and telephone.
Unique buying plans such as SBP (systematic buying plans) & OTC (over the counter) along with multi-tier membership programs.
Introducing new features such as Crypto Basket, etc.
We are all aware of the RBI's recent stance issued about the discontinuation of services by RBI regulated entities (banks/ payment gateways) for the purchase and selling of cryptoassets.
Due to the RBI's recent notification on 'Prohibition on Dealing in Virtual Currencies', our banking relationships are likely to be disrupted on or before July 5th, 2018. We are in the process of deploying new mechanisms for INR deposits and withdrawals. This is not a small undertaking and it will take us some time to deploy new solutions, please do not panic. Until further notice from our team, customers may continue INR deposits and withdrawals from Unocoin through normal banking channels as long as our bank accounts are functional beyond which the bank accounts based deposits and withdrawals of INR won't be available till the RBI's notice stay effective.
Regards
Team Unocoin
Update on 3rd July 2018:
RBI vs Cryptocurrency Exchanges: Supreme Court to Hear Plea on 20th July
The holiday bench of the Supreme Court has refused to hear the plea for interim relief. The hearing is set for the 20th of July. Banking services are expected to be revoked this week. We would like to let you know that this is not a ban on Cryptoasset and a policy in this regard is expected in the near future. However, if you are withdrawing or depositing any rupees in Unocoin, there could be a time when we may not honour such requests. Please continue to trade once you have understood the risk.